CURRICULUM VITAE
---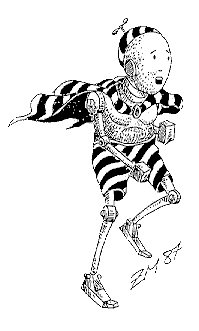 Name and Surname:
Zlatko Milenkoviæ
---
Date and Place of birth:
August 24, 1969 - Novi Sad
---
Education:
"Bogdan Šuput" - Secondary School of Design (graduated in 1988.)
---
Achievements:
My drawings and comics were published in the folowing periodicals: "Alef", "Pisac", "Šajkaške novine", "Sexpress", "Vesti", "Dan", "Ruske slovo", "Stav", "Nezavisni", etc. I have made designs for catalogues for various exhibitions, cover pages for books and notebooks, posters, leaflets, business cards, etc. I have drawn illustrations for local newspapers such as "Šajkaške novine" and "Dan". I have been working with Vojvodjanska banka since 1992.
---
Exhibitions:
ZLATNO PERO BEOGRADA - THE SECOND INTERNATIONAL BIENNIAL EXHIBITION OF ILLUSTRATIONS held in Belgrade in 1992
35. ZLATNO PERO BEOGRADA '93 held in Belgrade in 1993
BIENNIAL EXHIBITION OF YUGOSLAV COMICS "To be continue..." Stara kapetanija, Zemun
60 YEARS OF YUGOSLAV COMICS THE ART MEETING, held in Subotica in 1995 - Subotica, Novi Sad, Beograd, Solun, etc.
BITEF STRIP '97 held in Belgrade in 1997
---
Albums:
A collection of short comics "IT'S ALL HUMAN (or, perhaps, it isn't?)"
---
Awards: 1995 Annual award granted by "LITERATURNO SLOVO" (Ruske slovo). "MIROSLAV STRIBER" is an annual award granted for achievements in the field of prose, poetry and art. It was granted to me for my comics published in "Ruske slovo" as well as for my collection of short comics.